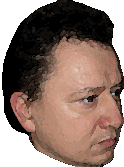 Warrent of apprehension
Here you can get some informations about me.
That's not a photo of me because it's a painted picture, with all aspects of artifical freedom.
If you wont to see more of me here i'm standing rightside of (my) moose!

At this photo with my GIANT ONCE racing bike you should also look at.
If you want send an email to me, using the formular by clicking at contact. This works only if there is an installed mailclient at your PC, PDA or Mobile.
My facts:
attribut
value
name
Lefus (alias Detlef)
age
41
living at
Nuernberg (Germany)
loved books
The Lord of Rings ( J.R.R. Tolkien), Foundation trilogy ( Isaac Asimov), Perry Rhodan
loved music
Apocalyptica, Kari Bremnes, Dead Can Dance, DePhazz, Dido,
Fanta4, InExtremo, Letzte Instanz, Linkin Park, Manowar, Massiv Attack, Loreena McKennit
Mike Oldfield, Rammstein
---